The traditional gift for your 3rd-year wedding anniversary is leather. It represents durability and flexibility in your relationship. By your third year together, it is natural to have encountered some hardships in your marriage, but the most important thing is how you two have weathered through it and carried on. A leather gift is a reminder of your commitment to keep your relationship stronger than ever.
For the modern couple, an updated gifting tradition is crystal or glass, as it represents brilliance and clarity in your relationship.
See 50 gift ideas to help you make your 3rd-year anniversary your best.
Traditional Gift: Leather
1. Leather Bag
A timeless leather bag will always make a wonderful gift. Get her something simple that she can pair with numerous outfits.
2. Shoes
Leather shoes are a classic gift that your wife can wear for years on end. They're also a great excuse to make plans for to wear them out.
3. Leather Office Chair
The pandemic has caused a shift in the workforce (and world) and has given many people the flexibility to work from home. This beautiful office chair will definitely make your wife more comfortable in her home office.
4. Travel Organizer
This travel organizer keeps all your travel essentials in one place. It can hold your passport, IDs, some pocket money, cards, and even your phone essentials.
5. Card Case
For a wife that likes to keep it simple, this card case is elegant and has enough pockets to hold her credit cards and IDs.
6. Sneakers
If you want a practical gift that your wife can use every day, getting her leather sneakers is a great idea. These sneakers are functional and have beautiful flower details.
7. Personalized Coasters
If drinking together is one of your favorite hobbies, these personalized coasters are for you. They can be customized with your initials or even your wedding date.
8. Planner
One way to support your wife is to help her get organized. This beautiful planner will help her keep track of her schedule and ideas.
9. Leather Couch
If your wife has always wanted to upgrade your couch, consider this the perfect occasion. It's functional, easy to clean, and instantly adds modern style to any space.
10. Travel Tray
This travel tray is easy to unfold and keep in a travel bag. It is a great gift for a wife that loves to keep her essentials in one place.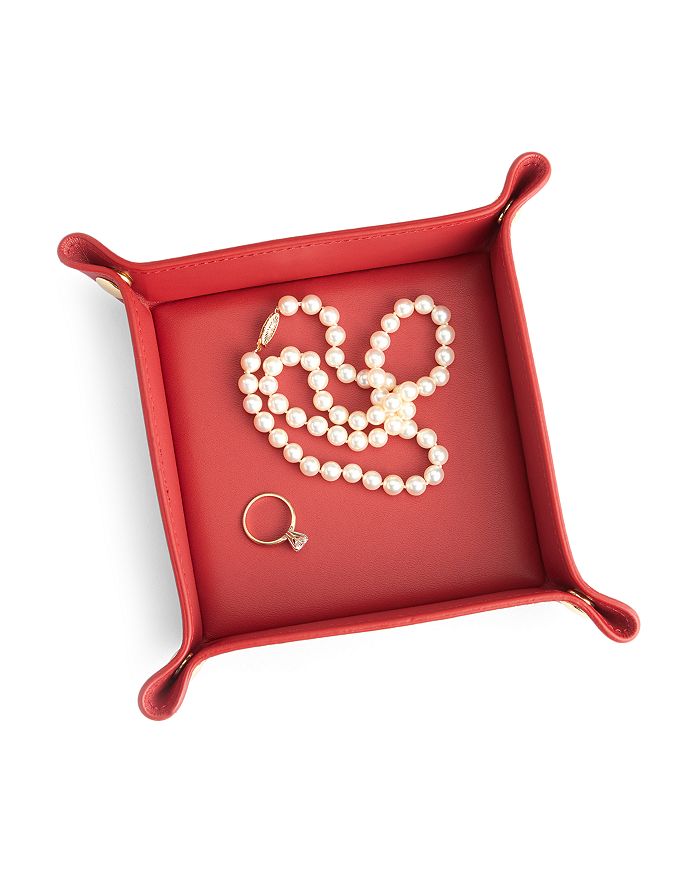 11. Watch
A leather watch is a truly timeless gift that's both beautiful and practical.
12. Keychain
This customized keychain is elegant and simple, yet will still be a great everyday reminder of how your relationship has grown through time.
13. Earrings
For the fashionable wife, get her a unique leather earrings. This earrings is beautifully detailed and would be very comfortable to wear.
14. Leather Pouf
This leather pouf makes a great addition to your living room. It's cute, functional, and easy to move wherever you want it to be.
15. Leather Roll Knife Set
If your wife loves to cook, this leather roll knife set will make a beautiful addition to your kitchen.
16. Leather Jacket
If your wife is edgy and adventurous with her fashion choices, a leather jacket is a fun addition to her wardrobe.
17. Leather Heart Anniversary Card
Pour your heart out into this anniversary card that features a leather heart to symbolize your third anniversary.
18. Photo Album
If you want to take the nostalgic route, this leather photo album can be filled with the memories of your third year of marriage.
19. Personalized Dopp Kit
This dopp kit can be customized with your wife's name. It's classy and will help ensure that her toiletries stay together.
20. Leatherette Wood Plaque
This leatherette wood plaque is customized with your wedding date and the amount of time that you've spent together.
21. Wine Holder
If you want to surprise your wife with something fun, here's a glass wine holder that we all never thought we needed until now. It's an amazing invention that will keep your couch and carpet stain-free.
22. Designer Belt
This designer belt will level up your wife's outfit and make her look effortlessly elegant.
23. Beverage Sleeve Cozie
Here's a gift that both you and your wife can enjoy — a beverage sleeve cozie. It can be used to hold a cold beer or protect her hands from hot coffee cups.
24. Leather Music Sheet Art
This art piece is stunning and sentimental at the same time. It may represent the music notes of your first dance together.
25. Leather Bookmark
This leather bookmark is a simple and useful gift that may be customized to have your initials together.
26. Basic Leather Craft Starter Kit
For the crafty wife, this basic leather starter kit is perfect. It contains the basic tools needed in creating simple leather goods.
27. Leather Flowers
Giving flowers will never go out of style. Make this year's flowers unique by giving her a leather bouquet.
28. Headphones
If your wife is an audiophile, she will appreciate these classic headphones with a hint of leather details.
29. Jewelry Organizer
If you like giving your wife jewelry, now is also the best time to get her an organizer for all the pieces you've gifted. This organizer features a leather exterior and a nicely partitioned space for storage.
30. Leather Desk Pad
This leather desk pad is a good addition to your wife's home office. It creates an organized space and also protects her desk from stains.
31. Leather Necklace
This leather necklace is perfect for the minimalist wife.
32. Personalized Bracelet
This personalized bracelet has a secret message engraved in its interior. It's a piece of jewelry that she can wear every day and look at whenever she wants to remember your anniversary.
33. Leather Utility Belt
This beautifully detailed utility belt is perfect for themed dates and costume parties.
34. Craft Apron
This craft apron features pockets she can use to store her DIY essentials. Pretty to look at and very functional at once.
35. Duffle Bag
If your wife is always on the go, this leather duffle bag makes for a great gift idea. It's spacious and very stylish at the same time.
Modern Gift: Crystal or Glass
36. Preserved Flowers in a Glass Dome
Make your wife feel like a fairy tale character with these preserved flowers. It's enchanting and it will last for years.
37. Crystal Glass Set
A crystal glass set will elevate your wine-drinking experience with your wife. This set features glasses that may be used for different type of beverages.
38. Crystal Sun Catcher
This crystal sun catcher will change how the sun hits your room. It will create beautiful patterns that can make the start of your days prettier.
39. Crystal Pendant
If your wife is into crystals, this quartz pendant would be a thoughtful gift. Quartz crystals are said to enhance energies and aid in concentration and memory.
40. Crystal-Filled Pen
If your wife loves writing, this fancy pen will make writing more enjoyable. It is filled with Swarovski crystals that are just so pretty to look at.
41. Bracelet
This simple bracelet is beautifully adorned to make her wrist shine with every flick.
42. Sunglasses
If your wife is a minimalist but likes to make a subtle statement, this pair is perfect for her.
43. Crystal Rose
If you don't think a leather rose is pretty enough, this crystal rose is also a great reminder of your 3rd wedding anniversary.
44. Crystal Earrings
These crystal earrings are sparkly but simple at the same time, making them great to pair with any outfit.
45. Vodka Set
If you like hosting in your home, this vodka set is a perfect addition to your glassware. It features a glass bottle paired with crystal shot glasses.
46. Crystal Box
This crystal box is a nice addition to your wife's jewelry collection. It can become a home to her most prized jewelry.
47. Glass Table
This stunning glass table is a unique addition to your home that your wife (and guests) will definitely appreciate.
48. Crystal Chandelier
This modern crystal chandelier can infuse elegant into any space. Wouldn't it be nice to dance under these beautiful lights?
49. Crystal Candle Holder
If your wife loves vintage, this candle holder will definitely make setting the mood in your home even sexier.
50. Crystal Encrusted Dress
Give your wife an excuse to be extra on your anniversary day by gifting her with a crystal encrusted dress. It's not every day that she gets to wear something this sparkly.